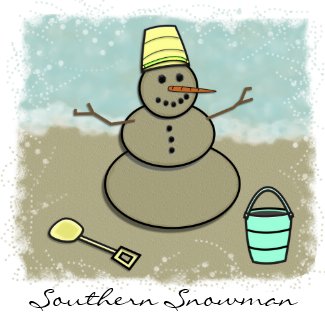 ((
Beach Snowman Gifts
by
RedRider08
)


Week before last we had 80 degree weather here, and a friend of mine was complaining that it didn't feel like the right time of year with the weather being so warm. I have to say, though, I like getting a little summer in the middle of Winter. There's so few times the weather is that nice here in Texas, I'll take it when I can get it!
Of course, Christmas is a little different. It's kinda nice to have it FEEL like Christmas. Snow is the best Christmas present, but it's a little unrealistic to hope for that two years in a row (places all over Texas had a white Christmas for the first time in a decade or so last year). But a nice chill on Christmas is welcome!
So, here's a couple questions for you about winter weather (and yeah, I realize these don't apply much to California and other warm weather states...unless you live in the mountains like I did) ...
Do you (or would you) enjoy an 80 degree break in the winter weather?
Would you be disappointed if it was warm on Christmas?
Thanks! If you have a blog and would like to post your own questions you can leave your link on the appropriate day at the linkys at
2 Questions Thursday
and
Aloha Friday.