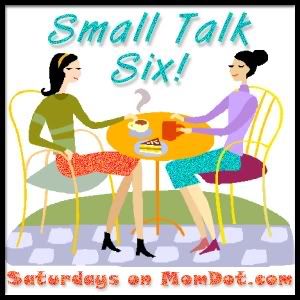 This week's
Small Talk 6
(which I'm a couple days late for) was 6 things you'ld like to change about your living room.
Here's what I'd like to change about my living room!
1. The couch with the torn up cushions would be GONE, replaced by a satalite couch.
2. There would be SOMETHING on our walls...other than paint.
3. The furniture would all be the same color wood.
4. It would have some shelving or cupboards of some sort to store stuff in.
5. It would be self-cleaning (a girl can wish, can't she?)
If you blog, you can share your 6 on your blog and post the link at
Small Talk 6 at MomDot
. If you don't blog, why not share your 6 in the comment below?