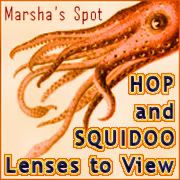 Hello, and welcome fellow Squido Lensmasters! For those who aren't travelling here by
blog hop
and don't know what
Squidoo
is, it's just a place where you can make nifty little web pages about any topic you choose, and maybe earn a little money for yourself or a charity in the process.
And guess what, I have a
squidoo for Texifornia
. It has some fun interactive stuff like funny and useful lists you can add to, photos, and more.
Well, recently it got delisted, which means it doesn't show up in the Squidoo directory anymore :(. It may be because my lens intro is so short. They keep asking me to make it longer, but I like it short so people can get right into content without a lot of intro.
What's your opinion...does a lens intro have to be long to be good? Or is brief sometimes better?
(Oh, by the way, I'm hopping in from two blogs today...this one, and my other blog
Such Fun to Give
.)