Hi! Welcome to
Two Questions Thursday
and
Aloha Friday
! Just for fun, want to see if you can guess which song is illustrated below? It's a song from the 80's (one of my faves now, though don't know if I had even heard the song then). The items below are things mentioned in the lyrics (or pretty close...plus some of the items mentioned are up for debate). Leave your guess in the comments. I'll post the answer later.
Did you guess? Yes? No?
Well, my second question is easier. What's your favorite 80s song?
....
Someone guessed the picture riddle, so I'm revealing the answer. .
IT'S THIS SONG
If you open it in another tab you can look at the pics above while it plays and see if you can spot everything. Or read the blow by blow below.

WHAT'S PICTURED ABOVE FROM THE SONG
tie too wide
old tab collars (eh, it was close enough)*
white wall tires
blue continental (lincoln continental)
pink sidewinders**
bright orange pair of pants
Beau Brummel***
speakers
sneakers (and cheep for etsy at least)
A+ student (I used grads)
looks and a whole lotta money (she has dollar bills in her pantyhose)
Rock and roll (the Billy Joel record)
THINGS THAT REQUIRE MORE EXPLANATION
(and yep, I had to look these up)
*Tab collars are faux collars you can add to a shirt. I thought that was "old time collars" til I read the lyrics.

*Sidewinders is said to refer to either slip on sandals or a way of tying your laces,
according to this
. I went with the sandals cause I was using sneakers later.
**Beau Brummel is the guy who invented the tie. I always though it was "bold runner" til I looked up the lyrics for this! Ha!
---
Also linking up with
and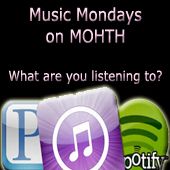 (Cause I totally have a Billy Joel station on Pandora)