It's time again for What's Hot and What's Not Wednessday...that great little meme hosted by
Loobylu
.
Here we go...
HOT
A mid-day snow flurry in Texas, in December! Here in Waco it melted nearly as soon as it hit the ground, though the flakes were big and beautiful. Up in Dallas I heard it stuck for a little while! (Hey, if it snowed in your area too...leave a comment and let us know how much snow you got! I'd love to hear!)
NOT
Seasonal colds and fussy babies.
HOT
These alternative Santa T-shirts designs from
A Christmas Trail
! Love em, love em love em...
A very Texas Santa (though wait...Sun Glasses? He might just be a Texifornian!)...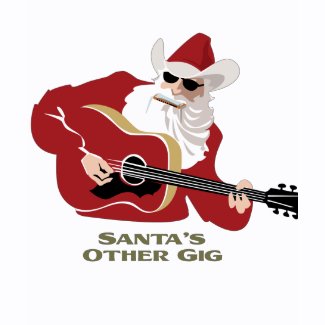 Santa's Other Gig
by
achristmastrail
Browse more
Santa's other gig T-Shirts
And a Californian Kris Kringle...
So fun!