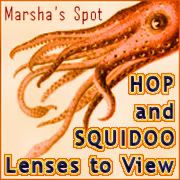 Hello, and welcome fellow Squido Lensmasters! For those who aren't travelling here by
blog hop
and don't know what
Squidoo
is, it's just a place where you can make nifty little web pages about any topic you choose, and maybe earn a little money for yourself or a charity in the process. The hop way to place to share blog posts related to Squidoo (and get help, comments, advice from some great lensmasters).
Thought I'd hop here today since I have some Texas updates to share, mainly that I added some summertime and patriotic Texas t-shirts to my
Texas T-shirt lens
(which currently is benifiting
Save the Children
...since I donate my portion of the ad revenue and affiliate earnings there). I also have a shirt lens for
California T-shits
(which I probably need to update).
I shared recently about my new lens,
Nazareth - An Interactive Experience
. This week I made a related lens about how to create
Fake Rock Walls
. All the photos were donated by people who had made sets for Nazareth themed Vacation Bible Schools this summer, and I'm so grateful to them!
It's benefiting
Save the Children
too, and guess what, someone already made a purchase though my one commercial module on that lens (an amazon lens about rock paper)! What I llike about that (other than extra $ for Save the Children), is that the commercial content blends well with rest of the content. When I posted up the rock wall picture on the
Group VBS forum
people asked about where I had gotten the rock wall paper, so I knew that it would be useful on the lens too.
So, how do you feel about the commercial aspects of your lenses (and websites and blogs, for that matter)? How do you feel about similar commercial sections you encounter on other pages? Does it contribute to the content? Does it detract?