My kids found a rabbits nest in our backyard last week! Didn't get great pictures of the babies, but we got a really good video. The first part is the only part with the babies...the rest is the mommy rabbit trying to cover up the nest so we couldn't peek anymore! Unfortunately, the You Tube embedded window is a little big for the blog so you might want to
view it on YouTube
.
Here's another picture of the mom:
The lil' rabbits are gone now (not GONE, gone...just left the nest). What a neat experience, though!
This post is listed in the following memes:
Outdoor Wednesday is a meme all about the outdoors hosted by
A Southern Dreamer
.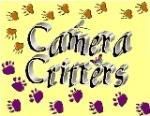 I listed this on
Camera Critters
, a fun meme about animals to explore with your kids!
And, even though it has a few words, I'm including this on
Wordless Wednesday
.