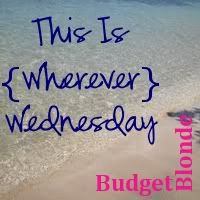 It's time again for
This is Whatever Wednessday
...a fun lil meme hosted by
Budget Blond
where you share the quirky lil' things about where you live. So, here's my "This is Texas" observations for the week...
The Texas newscaster last week said "There's a cool front heading in today, so we expect the high today will only be 95 degrees."
My friend got together for a pool-side get together. Much of the time was spent fishing black grasshoppers of the pool. Those critters take over Texas this time of year.
We received more rain Sunday night than we had in all of the past 120 days combined. And we are so grateful for it!
Which maybe helped lessen the damage of the fire that started in our neigbors and blazed its way under our fence today...that and that our kids accidently left the hose on last night. Don't know what started it. Maybe the grass just self-combusted! (THIS WAS JUST ADDED). Read more about that here.
Oh, and I talked with a half-Texifornian this morning (she was married to a Texifornian). Her husbands relatives from Calfiornia visited them in Texas during the coolest week we've had all summer, and complained about the heat. NOW THATS TEXIFORNIA!